Best SEO Training in Chandigarh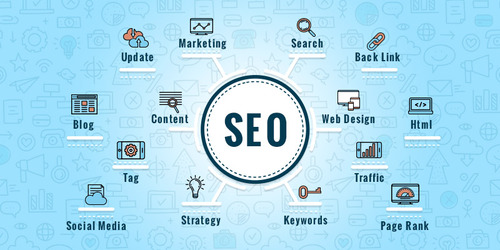 If you are Searching for best SEO Training Institute in Chandigarh then you are in Right Place. LiiM Institute is a Well known Digital Marketing Institute For SEO Training in Chandigarh.
In Our Training Course, you will learn all the concepts of SEO like On-Page Optimization and Off-Page Optimization, Advance Google Algorithms, latest Search Engine Optimization techniques etc.
Introduction and Benefits of SEO
As Everybody knows, SEO Stands For Search Engine Optimization is a Business technique in Which Websites want to rank on Page 1 of several Search Engines like Google, Bing, Yahoo etc. on a focus Keyphrase.
This module of Marketing is always Considered High ROI generating Technique in the Digital World due to its unbelievable benefits.
Here are the Several Benefits of SEO:
The first benefit of SEO is that it is the long-term marketing Approach. For example, if your website comes on the first page of Search Engine then it can stay there for a long time. Unless and until you'll not violate the rules of Google.
The second benefit of SEO is that you don't have to pay search engines like we pay for PPC.
It gives long-term branding opportunities for business. For example, if a focus keyword has 5000 searches per day and your website displayed on Page 1 of search engines then your business reach will became extremely high.
SEO has only one drawback i.e. it is very time taking process. In the process of SEO, you will have to do proper hardwork and should have a good patience level. With almost zero investment It can establish your business perfectly. If you know how and when to implement techniques, then you can grow your business website rapidly with heavy traffic.
LiiM Academy Batch Timing
SEO Training Course
Details
Duration
45 to 60 Days
Class Timings
9:00 am to 11:00 am, 11:30 am to 1:30 pm, 2:30 pm to 4:30 pm, 4:30 pm to 6:30 pm
Batches
Mobile Number
Email Id
Monday – Friday
paldigital911@gmail.com
+91-9815770276
What is the Need of SEO Training in Chandigarh
From Past few years, Chandigarh has emerged as an Educational Hub in North India. In fact, people outside from north India also want to pursue education in Chandigarh. IT industries are also growing day by day in Chandigarh
As We all know there are different types of Industries in Chandigarh, Business owners of different industries want to make online presence of their business. So, If you are searching for job in Chandigarh then you can join Our SEO Training course for good salary growth. You can also promote your own business through Search engine Optimization Course.
Our Major SEO Course Modules
Module 1. Search engine basics
Module 2. On-page signals
Module 3. Google Analytics
Module 4. Redirect Module
Module 5. Metatag Module
Module 6. Pathauto Module
Module 7. Simple XML Sitemap
Module 8. Content Optimizer
Module 9. HTML Purifier
Module 10. Power Tagging
Who can Do Our SEO Training Course in Chandigarh?
Small business owners who want to promote their business
Bloggers and Affiliate Marketers
Students who want to Pursue Digital Marketing as a career
Article and Content Writers
Web Designers, IT Professionals, Web Developers
Sales and Marketing Professionals
Scope of SEO and Job Opportunities?
In this Digital World, All Small and big Business Owners Prefers Digital Marketing rather than Traditional Marketing. This is happening because of drastic increase in Internet Users. Now days, to promote or advertise various businesses, Internet has became a big platform.
If you want to learn about PPC, then our Institute also provide PPC Training in Sec 34, Chandigarh
Here is the list of what you can do after our SEO Training Course;
You can start your own Digital marketing Agency
You can work as a freelancer
You can work in any Digital Marketing companies.
You can become SEO executive
You can become SEO Consultant
You can become SEO Analyst
You can become Link Builder
Why Choose Our Institute for SEO Training in Chandigarh?
LiiM Academy is Best Digital Marketing or SEO Training Institute in Chandigarh. We provide Quality training to our Students according to the need of Digital World. Many of our Students are placed in Top most Digital marketing agencies in Chandigarh Tricity.
Reasons for Choosing us for the best SEO Training;
You will get Practical Training in Our Institute
We have no registration fee
live Project Training will provide to the Students
We will give money making skills to our students by using internet platform
You will get flexible timing for training
Major FAQs
Q 1.) What is Fees of SEO Training in Our Institute?
Ans 1.) The Fee for SEO training in Our Institute is 15,000 rupees.
Q 2.) What is the Duration of this SEO training course?
Ans 2.) The duration of this SEO Training course is 30 to 45 Days.
Q 3.) What are the Timings for SEO Training Course Provided by LIIM Academy?
Ans 3.) The Timing of this training course is Flexible. We are open 9 am to 7 pm from Monday to Friday
Q 4.) What is Guarantee of Job After SEO Training Provided by LIIM Academy?
Ans 5.) In terms of placements, Our Institute has great track record. We give 100% job assistance to our students. Different digital marketing company of Tricity approach us and we send students for interviews. In Interviews, it's depend on your personal skills
Q 5.) Who Can do this SEO Training Course?
Ans 5.) Anyone can join this course. You don't need a particular background to join this SEO Course.
Q 6.) What is the Minimum Salary Package I can Get After this Course?
Ans 6.) If you are fresher, The salary goes from 12 to 15k. If you move in metropolitan city, the salary goes from 20 to 25k for freshers.