PPC Training in Chandigarh: If you are looking for Best PPC Training Institute in Chandigarh, Mohali, or Panchkula, then you are on the right webpage. We are providing an advanced PPC Course in Chandigarh. Our PPC Institute in Chandigarh helps our students to get Google AdWords certification from Google quickly.
You can call +91-9815770276 for full details of the Google Ads training in Chandigarh. We also Provide PPC Training in Lucknow, Mohali, Panchkula, Zirakpur, New Chandigarh, Kharar, Ambala, Ludhiana, and Naya Gaon.
Batch Details of PPC Training in Chandigarh
| PPC Course in Chandigarh | Details |
| --- | --- |
| Duration | 30 days |
| Class Timings | 9:00 am to 11:00 am, 11:00 am to 1:00 pm, 2:30 pm to 4:30 pm, 4:30 pm to 6:30 pm |
| Batches | Monday – Friday |
| COURSE FEE | 15,0000 RUPEES |
| Phone Number | +91-9815770276 |
| Address | SCO 126-127, 4th FLOOR, SECTOR 34-A, CHANDIGARH, INDIA |
| Email | info@paldigitalmedia.com |
Best PPC Training in Chandigarh, Google Ads training in Chandigarh, PPC certification in Chandigarh,
About the PPC Course in Chandigarh
Google AdWords Training and SEO Training are the most integral part of Digital Marketing. Our PPC course in Chandigarh includes Keyword Research, Keyword Categorization, Account Set up, Optimization, AdWords Editor, etc. We teach various PPC Tricks and Techniques which generate Instant Business.
Our PPC Institute in Chandigarh gives value to its students. Our pay-per-click agency runs various PPC campaigns for different businesses. After this PPC course, we also provide PPC certification in Chandigarh.
List of Modules in our PPC Institute in Chandigarh:
Comprehensive campaign setup
Landing Pages
Advance Concepts of PPC
Bidding and Reporting
Conversion Tracking
Multi-Touch Conversions
Universal App Campaigns
Account Management
Google Analytics
Optimize Performance
Language and Location Targeting
Campaign Structuring
AdWords Tools
Mobile Tracking Installation Management
What is CTR
What is CPA
What is CPC
Syllabus of PPC course in Chandigarh provides by LIIM Academy
Account Setup and PPC in-house Training Syllabus & education
Optimization and Reporting
Pay per click advanced optimization tips
Google AdWords tools and Techniques
Reporting
Billing
Google Adwords Course Training Included:
Budgets and bidding
Measurement and optimization
Managing many accounts
Ad Formats
Ad & Site Quality
AdWords Tools
Performance Monitoring and Reporting
Optimizing Performance
Performance, Profitability, and Growth
AdWords API
Display ads on the Google Display Network
YouTube Pay Per Click course with Display Ads
Display ads on mobile devices
Mobile Tracking Installation Management
Google Analytics
E-commerce Tracking Analytics
Introduction to Google AdWords training in Chandigarh
Account management
Campaign and ad group management
Keyword targeting
Language and location targeting
In this Google ads training in Chandigarh, you will learn how to complete keyword research strategies, creating ad groups and campaigns.
What are keywords?
Types of Keywords
Keyword Research Techniques and Tips
How to Create Ad Groups
How To Create Campaigns
Creating Structure Reports
Keyword Match Types
Negative Keywords
Google Ads Keyword Limit
Exercise on Research AND PPC flight booking calls preparation
Keyword Research Advance Techniques.
FB marketing landing pages of best practices.
Grounding for CPC course Videos, Audio, eBooks, webinars podcast, ppt, event class materials.
Career Scope of Google Adwords in Chandigarh
Advertisements play a significant role in every business to sell their products and services. There are different types of Ads like Social media advertising, email marketing but Pay per click advertisements are the most used digital advertising technique because this help gets instant business inquiries and orders.
Jobs in PPC marketing in Chandigarh are increasing day by day. Many PPC companies in Chandigarh are hiring skilled candidates. If you become an expert in PPC marketing, no one can stop you from becoming a millionaire or billionaire.
The only Drawback of PPC is that it is budget-oriented. Its process is not free like Search Engine Optimization. Businesses spend lakhs of rupees in PPC Advertising every month. For the perfect use of budget, they need a PPC specialist. So, if you will acquire this skill, it is a chance for you to become a PPC specialist in various businesses and multi-national companies.
Some significant benefits of Pay per Click Marketing
It gives immediate results in less time
High return on investment
It gives target Costumers
It increases your brand recognition
It improves your SEO strategies with PPC Data
It contributes to increased overall website traffic
It helps even though algorithm changes
It is an effective way to boost conversion rates
Google ads give you an immediate impact
The objective of Google ads training in Chandigarh By LIIM
Our Google Ads certification course in Chandigarh is a well-planned course to provide our students with in-depth knowledge and understanding of PPC. At our LIIM Academy, our main objective of this PPC training will be to make you aware of all the aspects and strategies of Pay per click advertising.
At the end of this PPC course, you'll master the following things:
You will become an expert in framing and executing PPC campaign to achieve PPC marketing goals
You will become the expert in beating the competition in your field.
Paid advertisements will help you to increase brand awareness and boost your conversion rates.
You will become an expert in tools and various strategies to master any role in the paid Advertising world.
Who are eligible for this PPC course in Chandigarh?
Looking for work from home
Students
Graduates
Postgraduates
Bloggers
Startup owner
Web design and developers
Job seekers
Other working professionals
Website Agencies
Marketing and Business Students
Why should you choose LIIM?
We Nourish the skills and talents which already exist in you and get the proper corporate exposure.
Attain excellent practical knowledge and understanding with hands-on training.
You get a chance to learn from experienced professionals.
We make you stay focused and remain updated about Google algorithms.
Keep informing you about the latest web versions.
Receive a valid certification that is well recognized in the industry and agency.
Giving Counseling help the campus to do the corporate transition.
Coaching lectures according to the top best standard working modules.
Detailed assignments must make developed.
Our team provides theoretical depth classes.
Comprehensive lesson programs are delivered.
Batch images
FAQ's
Q 1.) What is the Duration of the PPC Training Course in LIIM Academy?
Ans 1.) The total Duration for learning this PPC or Google AdWords course is around 30 to 45 days.
Q 2.) What is the Career Scope After Learning this PPC course in Chandigarh?
Ans 2.) Almost Every company needs PPC Experts Who can run their ads on Google and Other Social Media Platforms.
Q 3.) Is there any Job Guarantee if we pursue pay-per-click training from LIIM?
Ans 3.) Yes, definitely the things which you will learn in our Institute will be 100% practical and according to the latest trends. Also, Our Institute provides you with 100% job assistance.
Q 4.) What Certifications Do We get If we pursue the PPC Training program in LIIM?
Ans 4.) Three certifications that you will get if you take our PPC course in Chandigarh are:
Google AdWords Certification (Google AdWords Fundamental & One in Google Search network Or Google Display Network).
Facebook Blueprint Certification
Pal Digital PPC Certification in Chandigarh
Q 5.) Does LIIM Academy Provide Some Reading Material Too?
Ans 5.) Yes, we'll provide you with Study Material that helps you to clear the Certification Process. It is very easy to clear the certification Process if you learn the modules clearly.
ADDRESS:
PDMC– PAL DIGITAL MARKETING CLASSES
SCO 126-127, 4th FLOOR, SECTOR 34-A, CHANDIGARH, INDIA
Duration: 3O – 45 Days, Digital Marketing Course Chandigarh, Punjab, India
Mobile: 9878737635, 9815770276
Email: info@paldigitalmedia.com
Summary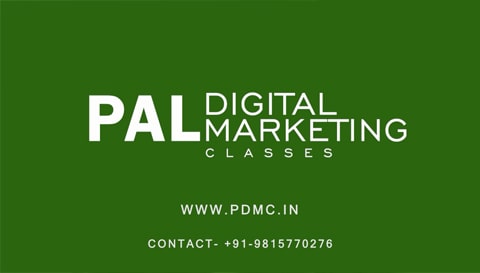 Article Name
PPC Training in chandigarh
Description
You can call +91-9815770276 for full details of the Google Ads training in Chandigarh. We also Provide PPC Training in Lucknow, Mohali, Panchkula, Zirakpur, New Chandigarh, Kharar, Ambala, Ludhiana, and Naya Gaon.
Author
Publisher Name
Publisher Logo